If you do nothing else to your landscaping this season adding a fresh layer of mulch is something you should definitely consider. Mulch is cheap to purchase and install in relation to other landscaping services and should be applied every 1-2 years. Many people think that mulch is only for looks but they're wrong! Mulch brings with it a multitude of other benefits for your home, garden and landscaping.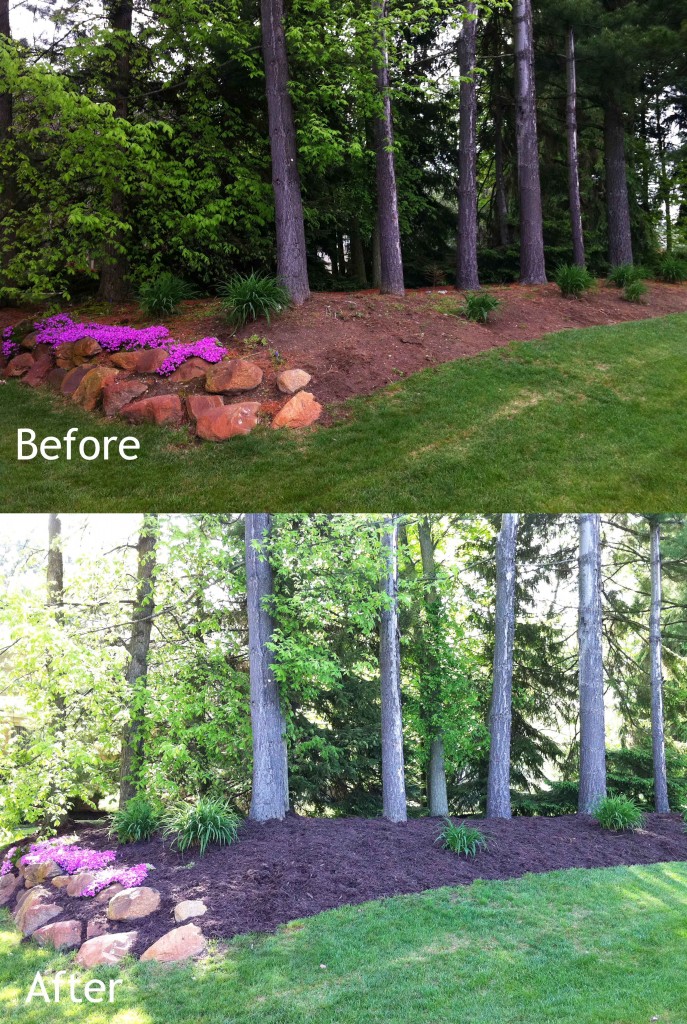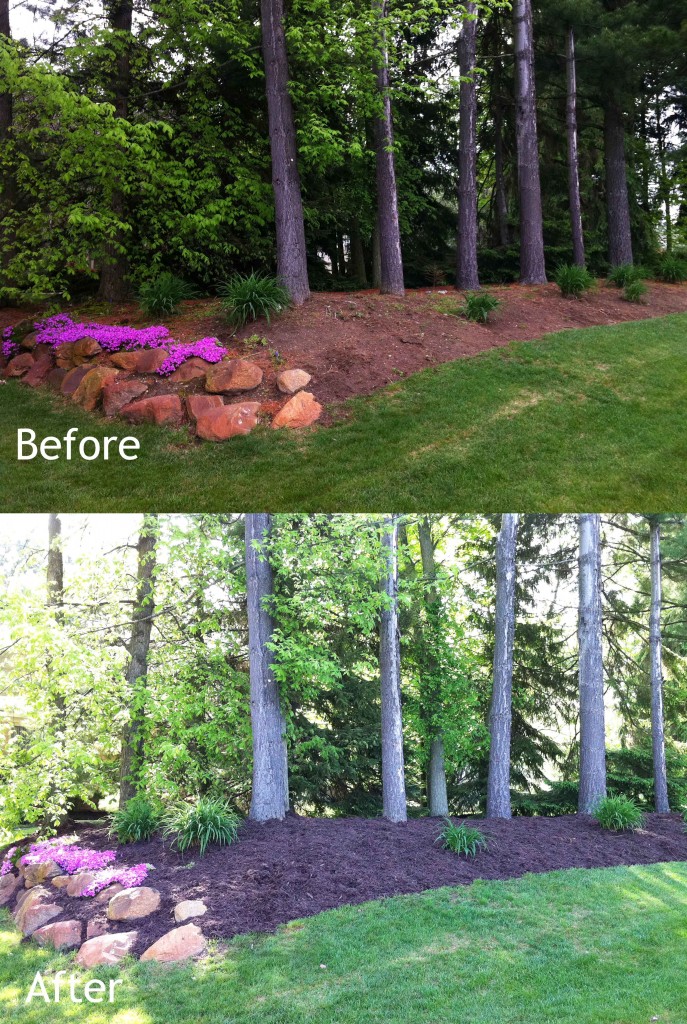 Before we get to the benefits, let's take a second to go over the proper way of laying mulch. Yes, even throwing little wood chips on the ground has a right and wrong way, and doing it wrong can be devastating to your home's landscaping. When laying mulch remember to maintain a 2-4 inch depth. Too little and you won't get the benefits. Too much and you'll get problems like root rot, over retention of water, and micronutrient deficiencies. Avoid putting mulch up against tree trunks or the bases of other plants and bushes. If mulch is piled against the stems or tree trunks, pull it back a few inches so that the base of the trunk and the root crown are exposed. When mulching around large trees be sure not to pile it up too high but instead increase the area around the base of the tree for which mulch will be applied. Think wide, not thick.
We all know how nice new mulch looks but what about those benefits? In addition to making a home looked well-groomed, mulch is placed over soil to maintain moisture and improve soil conditions. Mulch can also reduce water loss, keeping your plants healthy. Learn all the benefits below.
Benefits of proper mulching:
1. Mulch helps maintain soil moisture. When mulch is applied evaporation is reduced, and the need for watering can be minimized. This not only saves water which is great for the environment but also keeps your plants properly fed.
2. Helps control weeds. A 2- to 4-inch layer of mulch will reduce the germination and growth of weeds. This will help you to minimize the amount of time you spend weeding and maximize the time spent enjoying your yard.
3. Mulch serves as nature's insulating blanket. Mulch keeps soils warmer in the winter and cooler in the summer. A high soil temperature in the summer can disrupt the life cycle of some delicate plants. While this isn't important to everyone, it is still a worth while benefit.
4. A layer of mulch can inhibit certain plant diseases. Everyone who has a yard has had to deal with a plant or tree being infected with disease from time to time. And if you haven't then consider yourself lucky! But an infected tree can cost a lot of money to heal or remove and infected plants can die and infect nearby shrubbery. Keeping your yard healthy can be as easy as a light mulching.
5. Some mulches can improve soil fertility. The mulch that we use here at Landscape Solutions comes from natural materials. These materials hold nutrients that can fertilize your soil which add life to your plants, shrubs and flowers. Soil fertilization is not only good for the plants and flowers in your beds but the fertilizing properties can also spread to your lawn, making it greener, thicker and more resilient to disease.
There are many mulch types to consider when refreshing your yard. There's eco-friendly mulch, colored mulch, natural mulch, dyed mulch, shredded mulch and even double or triple shredded mulch. Mulch can be made from various materials and not every mulch is right for every home. Picking the right mulch to match your home and meet your needs isn't always easy. Give the experts at Landscape Solutions a call at 1-800-555-5555 and we'll come out to your home and make sure you get the right product as well as proper installation.
Who doesn't love a freshly mulched yard? It makes a yard look bright, clean and well put together. If it's been years since you last updated your mulch now is the time to make a change. Your home could be 110% brighter and healthier than it is right now. Whether you live in Northville, Novi, Farmington Hills, West Bloomfield, South Lyon, Milford or anywhere else in South East Michigan we've got you covered!