Landscape Solutions has an experienced team of landscapers and gardeners ready to complete any project. Our goal is to provide every customer with reliable and affordable landscaping services. Below is a list of a few services we provide. Don't see something on the list? Just ask! No project is too big or too small! We're always here and ready to answer any questions you may have. Give us a call at 1-800-555-5555 now for a FREE landscaping quote!
| | | | |
| --- | --- | --- | --- |
| Shrub & Flower Planting | Mulch Installation | Weeding & Weed Prevention | Edging |
| Bush, Shrub, & Tree Trimming | Decorative Stone Installation | Bed Creation | Yard Maintenance |
| Grass Seeding | Sod Installation | Spring Cleanup | Fall Cleanup |
| Yard Waste Removal | Brick Laying | Stone Laying | Just Ask! |
Mulch Installation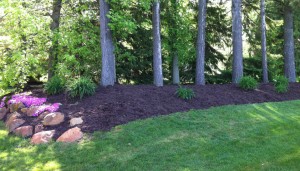 A fresh layer of mulch is a great addition to any home's landscaping. Not only does it look great and keep your home looking vibrant, it also prevents weeds from growing in your flower beds! New mulch should be laid every one to two years depending on the weather, upkeep and the type of mulch that is used. At Landscape Solutions we use various types of mulches including; colored mulch, shredded mulch, natural eco-friendly mulch and many more types! Our landscapers can lay your mulch quick, efficiently and, of course, at a great price! We deliver and install.
Weeding and Weed Prevention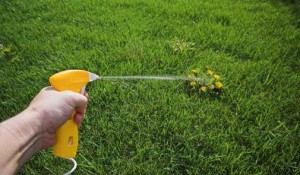 Unsightly weeds can ruin the look of a home. Our experienced landscapers will get rid of those weeds once and for all! We don't use machines to chop the weeds at the surface, we pull right from the root to ensure they don't come back. If you don't have weeds and want to keep it that way, our weed prevention service will maintain your beds by keeping them weed free.
Natural Edging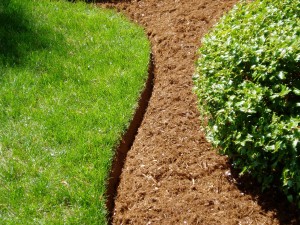 Ditch the plastic edging for a more natural and sharp look. Our natural edging creates a beautiful natural edge where bed meets lawn. With natural edging there is no cut up plastic from the mower or pieces popping out of the ground. Natural edging is becoming more and more popular because it has low maintenance and doesn't get in the way when weed whipping or mowing. You can read more about why you should switch to natural edging on our landscaping blog located in the tips and tricks tab.

Bush, Shrub and Tree Trimming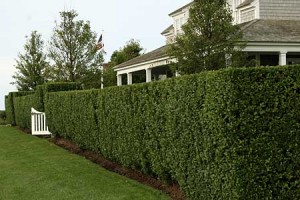 Bushes over grown? Trees blocking the sun? We've got you covered! Don't let your bushes and shrubs grow out of control. Let our expert landscaping crew handle all your trimming needs. We know the perfect amount to trim bushes and hedges to give them the best opportunity for growth and avoid over trimming. And if you have a particular way you like them cut, just let us know and we'd be glad to accommodate your specifications. Contact our professional landscapers at 1-800-555-5555 and we'll answer any questions you may have!
Decorative Stone Installation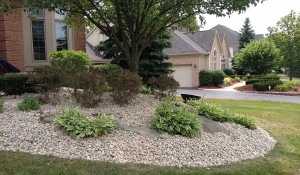 If you're tired of refreshing your mulch every year decorative landscape stone may be the way to go. Although more costly upfront, decorative landscaping stones cost less in the long run and don't require yearly maintenance like mulch. There are many varieties and colors of landscape rocks to choose from such as lava rock, river rock, pink quartz and many more! We deliver and install.
Shrub and Flower Planting
Like flowers? So do we! We use only the most healthy and hearty flowers in our customers' landscapes. We know how important it is to have flowers that can withstand the elements while keeping your home bright and colorful. Our flowers are purchased from local vendors who take special care to ensure the flowers are ripe for planting. The end result, you get the biggest and most durable flowers for your yard! Allow the landscapers at Landscape Solutions plant your flowers this season!
Custom Bed Creation and Retaining Walls
Need more space to show off your place? A new custom bed or retaining wall will add depth to your landscaping. Whether you need a small bed created for flowers or a large area converted to into a landscaping masterpiece, we've got you covered. We can build a design from an idea you have or create one all on our own. Call us at 1-800-555-5555 for your free quote and landscaping consultation now!
Yard Maintenance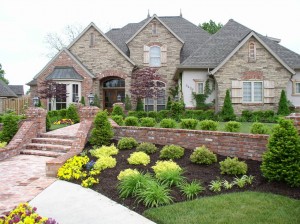 No job is too big or too small when it comes to tiding up your yard. Continuous upkeep on your home's landscaping can be time consuming and overwhelming. Throughout the season light trimming, minor weeding  and other touch ups may be in order. Whether you're home or away, our trustworthy landscapers are the people to call to keep your yard tidy this season.
Grass Seeding and Reseeding
Having a neat and pristine lawn is important in maintaining the look of every home. Patchy spots and thinning areas in your lawn are unsightly. Depending on the level of damage and the area affected seeding can be a great and cost effective option. We make seeding new lawns, reseeding existing lawns and filling in patches of spotty lawns a walk in the park.
Sod Installation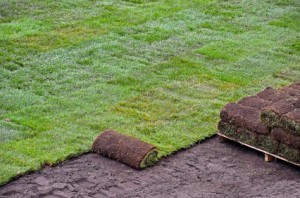 Ah the there's nothing better than a fresh roll of sod! Sodding a new yard completely or just a new section of yard is no problem. Our specialists will first measure out the area of the job. We will then remove the current debris to make way for fresh sod, which will take place in a simple one day installation. Our past customers have loved the way we've transformed their lawns! Call our experienced landscapers at 1-800-555-5555 for your free quote.
Spring/Fall Cleanup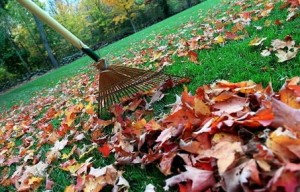 Start AND end the season on a good note. In the spring many plants need to be cut or trimmed down so that they can properly grow. The beginning of the season is crucial for a lot of plants, and proper care and maintenance during this delicate time is key. We can properly identify the plants needed for maintenance and take care of them accordingly. In the fall, cleaning out your flower beds and pulling any remaining weeds promotes healthy plant growth in the spring. Our crew will remove the leaves and clean the beds so they can start fresh the next season.
Yard Waste Removal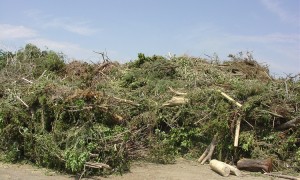 Got a lot of this stuff?? We can take it off your hands, no problem! Don't try and haul your yard waste to the dump yourself. We dispose of grass, leaves, sticks, branches, bushes, small trees, excess mulch, dirt and other unwanted yard waste. Give us a call and we'll load it up and take it to our compost yard where it can be disposed of in an eco friendly environment.